Campus Leadership
Troy Hardy – Campus Director
Troy Hardy has been serving at Faith Farm Ministries since 1998, and is currently the Director of the Boynton Beach Campus. He is a graduate of both the Phase I program at Faith Farm and the SLS (Servant Leadership Services) program. Troy has successfully served in all areas of the furniture sales department and store management, as well as teaching biblical classes to students in the program. He attended Miami-Dade College on a basketball scholarship. His family includes his wife and three children. Mr. Hardy is dedicated to Faith Farm Ministries and says, "To see lives changed … what an awesome thing to see … God at work."
Joshua C. Golding – Assistant Campus Director
Josh Golding joined Faith Farm Ministries in January 2016, as Assistant Director at Faith Farm's Boynton Beach Campus.  Josh has years of business ownership and operations experience in satellite communications. He has a Bachelor of Science degree in Business Management from Western Governors University.  After dealing most of his life with family members who struggled with addiction and chronic pain treatment, Josh felt a strong calling from God to be part of the solution.  He believes in the rich Godly value and powerful anointing of Faith Farm Ministries.  His family includes his wife, Christi, and their dog, Maxx.
Jim Reneau – Campus Pastor
Pastor Jim Reneau is a fifth generation minister, raised in Northern California, in the land of the Redwoods. His father, Richard O Reneau, pastored at Faith Tabernacle in Boynton Beach, for five years prior to his coming to Faith Farm. Pastor Jim attended both, International Bible College in Texas, and Golden Oaks Bible College in California. In 1977 he was ordained with the International Ministerial Association and also carries an ordained minister's license with Fellowship of Ministers International Inc. For nine years he served as associate pastor in Idaho. From Idaho the Lord called Pastor Jim and his wife Debbie to Alaska where they pastored for 6 years. The Lord then called them to Sacramento where they worked in the ministry and fellowshipped for 11 years under the leadership of Pastor Mark Tucker of New Life Community Church in Fair Oaks, California. Pastor Jim and his wife were married in 1974. They have 4 children and are enjoying being grandparents. It has always been his passion to train up men and women in the work of the ministry. He is now mentoring and training graduate students and community members in ministry preparation. Pastor Jim and his wife work as a team with those in the residential program of Faith Farm, and with the community members of the church, offering personal and marital counseling. Concerning his seamless partnership with his wife: A prophet in California once told him, "You are like a pair of Clydesdale horses pulling together."
Paul Zielinski – Intake Counselor
Paul Zielinski comes to Faith Farm from La Crosse, Wisconsin. He received his Bachelor's Degree with a major in Social Work from Wisconsin and went over the border to Minnesota to get his Master's Degree with a major in Community Counseling. Paul has done mental health and substance abuse counseling for the past 20 years. He has worked as a counselor in Wisconsin, Florida, Oklahoma, and Massachusetts. He finds being an intake counselor to be challenging and rewarding. Paul counsels the residents when he is not doing intakes. Once a month Paul does "Live with Paul" which is a time for residents to show their talents providing Christian music in the form of singing solos, duets, and playing different instruments. Residents have also written poems and presented them in addition to preaching sermonettes. Paul has a great sense of humor and that is evident in his "Live with Paul" presentations. He and a co-host present humorous awards and do skits. Paul has been at Faith Farm for less than a year.
Kathryn Bausman – Women's Program Director
Kathryn Bausman joined Faith Farm Ministries in November 2015, as the Women's Program Director at Eastham Home for Women.  An ordained pastor, she attended the University of Alaska's Business Program.  She has owned and operated a mortgage company and a drug and alcohol consortium and education company working with government and private businesses.  Before coming to Faith Farm, she and her husband, Mark, pastored a church in Twin Falls, Idaho; she was Executive Director of a women's addiction program, Jubilee House Ministries; they had a coffee shop ministry in Lahnstuhl, Germany; and they served as alter team ministers for the Assembly of God Congregation in Ramstein, Germany.  Kathryn and Mark have 4 grown children and lots of grandkids : )   Her passion is to see the people of God living lives of freedom from the bondage of sin as lights to their families, communities and the world through the power of the Lord and Savior Jesus the Christ!!
Maresha Schmakeit – Intake Coordinator
Maresha Schmakeit came to Faith Farm Ministries in June 2016 and is the Intake Coordinator at The Eastham Home for Women at the Boynton Beach Campus. "I am a grateful believer in Jesus Christ who has delivered me from the bondage of addiction and religion and has set me free to love Him, myself and others."  Maresha has a passionate desire to help other women find the same freedom from shame through the love and power of Jesus Christ.   Previously at a recovery program for women in Idaho, Maresha worked in both the administration and as part of the counseling team at Lighthouse Christian Fellowship, and interned at Hillsong Phoenix while attending Christian studies at Grand Canyon University.
Luis Morales – Campus Director
Luis Morales is the Campus Director at Ft. Lauderdale. He joined Faith Farm Ministries in 2015. With a plethora of experience in transportation logistics, he has been a real asset to Faith Farm in our Trucks, Dock and Warehouse department. He then became the New Furniture Manager. His expertise is in developing complex logistic functions, processes and software, DOT compliance, developing efficient routing and delivery, and exceeding expectations of quality customer service. He attended World Harvest Bible Training Center in Pennsauken, New Jersey. God gave Luis a heart for men's addiction recovery, which led him to Faith Farm Ministries. In addition to his duties as the Campus Director, he also teaches classes and provides biblical counseling to the men in the program.
Tim McLean – Assistant Campus Director
Tim McLean is Faith Farm's Assistant Campus Director at the Fort Lauderdale Campus. Tim has been married to Marie for 25 years and has 2 college-age sons. Originally from Detroit, Michigan, Tim came to Florida in 2001 so that Marie could be near her West Indies roots. Tim obtained Bachelor & Masters Business Degrees in Human Resources and Project Management from the American Intercontinental University (AIU) -South Florida, and serves as President of the Alumni Association. As the alumni president, he has partnered with several well-known community-based organizations, including The American Red Cross, Pembroke Pines YMCA, The Ronald McDonald House of Fort Lauderdale, and The National Black MBA Association, Inc., to name a few. He taught elementary school in Broward Public Schools for 10 years. He's also served as an adjunct instructor and tutor at AIU for 5 years. He returns to faith-based counseling since working as a youth counselor for Youth for Christ ministry as a young adult. Finally, for leisure, Tim enjoys keeping fit by running in the local neighborhood parks and working out at 24 Hour Fitness.
Douglas Lidwell – Pastor
Douglas Lidwell is a graduate of Monmouth College in Monmouth, Illinois, where he earned his B.A. in Communications. He also earned a degree in Theology from Dan El Christian College in the Chicago area. Douglas is a certified minister of Theophostic counseling … studying, practicing and pursuing both emotional and physical healing via the completed work of Christ on the cross. He was ordained as a pastor at Christ Temple Church in Huntington, West Virginia, after serving as an associate pastor in an urban mission church plant in Pekin, Illinois. Douglas and his wife, Heather, have four children. Their family is mission-minded, believing it is the will of God for their family to bring life and freedom wherever God has placed them. Douglas answered the call of God to come to Faith Farm and minister the abundance of grace and the gift of righteousness, to see families restored, and to advance the kingdom of God by strengthening men in a dynamic way that focuses on their identity in Christ.
Rick Aspden – Campus Director/Pastor
Rick came to us as a homeland missionary and church planter, who is experienced in entrepreneurial business management and all aspects of church management. With diverse backgrounds of military, business and ministry, coupled with his no nonsense approach, he challenges men not just to be men, but men of God. He is a gifted speaker, counselor and pastor who has a heart for the hurting and a willingness to do something about it. Rick is married and has one daughter. He serves Faith Farm as a Pastor and Assistant Director at the Okeechobee Campus, managing the Spiritual aspects of the program along with the day to day operations of the farm.
Lee Jolicoeur – Assistant Campus Director
Lee Jolicoeur came to Faith Farm as a homeland missionary/pastor with many years of ministering to people that are broken and hurting.  Along with his ministry experience, Lee also has many years of business and entrepreneurial experience.  Lee has a Bachelor of Science degree in Transformational Christian Ministry from Warner University.  This experience and education uniquely equips Lee to help lead Faith Farm's Okeechobee Campus in both spiritual matters and its operational needs.  Lee is married and has two daughters.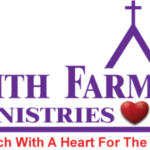 Marc Murphy – Intake Counselor
Marc Murphy came through the front doors of Faith Farm's Okeechobee Campus in February, 2005, as a student. He successfully completed the 9 month program and SLS Program and subsequently remained on Campus and joined the Faith Farm staff. Marc's current position is in the Intake Office, where he enjoys being used by God to offer hope to those who call. He remembers being on the other end of that line. He is thankful to serve with Faith Farm and enjoys being a part of something that changed his life forever. Marc lives on campus with his wife, Melissa, and two sons, Gavin and Cody. He enjoys spending time with his family at the beach or camping.