Careers
Career Opportunities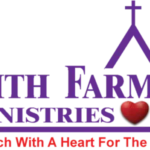 Faith Farm Ministries seeks to hire individuals with a heart for ministry who have a desire to be a missionary on US soil. We believe that hiring qualified individuals to fill positions contributes to the overall mission and strategic success of the organization. Each employee is hired to make significant contributions to the Ministry and provide quality services to both internal and external customers. We have established a process to ensure that all applications are consistently accepted for open positions, processed, screened, and maintained in a manner that promotes the hiring of the most qualified candidates for vacant positions, within compliance of Faith Farm Ministry policy and required Federal and State laws.
Faith Farm Ministries strives to select the most qualified candidate available for positions based on: their education, knowledge, skills, experience, and ability to perform the job requirements. In certain situations, prior experience, knowledge, and skills may substitute for educational requirements.
Potential employees must be able to successfully pass a Background Check and Drug Test.
Interested applicants may email resume to: ministrycandidates@faithfarm.org or fax to (561) 737-2355. Fort Lauderdale Rescue Tabernacle, Inc., d/b/a Faith Farm Ministries, is an equal opportunity employer.