Thrift Store Patronage and Donations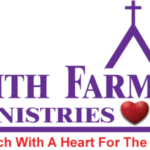 The primary means of support for programs has been our well known Thrift Stores. No one does "thrift" like us! Faith Farm has always delivered great thrift stores with abundant merchandise, thanks to our generous donors in the community who donate gently used furniture, furnishings, appliances, jewelry, clothing, sporting goods, medical equipment, office furniture, electronics, art and collectibles . . . even cars, trucks, boats, motorcycles and RVs are donated for our Auto Sales. If you'd like to donate, call the location closest to you and arrange for a free pick-up.
There are three Faith Farm Thrift Store locations. Our stores are open, Monday through Saturday. Become one of our VIP Customers and receive advance notice of our special sale events with huge savings, when these hours are extended.
Home delivery of items purchased in our store can also be arranged for a nominal delivery charge. So, come and see what all the excitement is about. There is always something happening at Faith Farm.
FREE DONATION PICK-UP
For donation pickups call the following phone numbers.
BOYNTON BEACH
(561) 737-2222
FORT LAUDERDALE
(954) 763-7787
DON'T WANT TO WAIT ON HOLD? WE DON'T BLAME YOU!
DUE TO HIGH CALL VOLUME IN OUR DISPATCH CENTER, WE WILL GLADLY CALL YOU TO SCHEDULE YOUR FREE DONATION PICKUP AT YOUR CONVENIENCE." Simply click your location on the map, give us a little information and our representative will call you with a confirmed appointment.
Please choose your region below to request a call to schedule a free donation pick up online:
STORE LOCATIONS
BOYNTON BEACH STORE
9538 Hwy 441
Boynton Beach, FL 33472
Store Hours: 9AM to 6PM
FORT LAUDERDALE STORE
1980 NW 9th Avenue
Fort Lauderdale, FL 33311
Store Hours: 9AM to 6PM
OKEECHOBEE STORE
1852 Hwy 70 West
Okeechobee, FL 34972
Store Hours: 9AM to 5PM
All Stores CLOSED SUNDAY