Advanced Programs
Upon completion and graduation from the 9 month basic program at any of our Faith Farm campuses, a student has many options.
"I have set before thee an open door and no man can shut it . . ." Revelations 3:8
In their final months, students have worked on resumes, practiced interview skills, learned to search for jobs, found a church home, investigated small recovery groups such as Celebrate Recovery, AA or NA, and completed an Alumni Association profile. Our students receive tools and coping skills and are well prepared for a purpose-filled, productive life. What's next?
Many students return home to a church, family and community. God has restored them to a life where they can be everything He intended. Sometimes, however, a student decides to continue the growth that began at Faith Farm. The Advanced Programs have been designed for this student:
APPLY NOW
If you are inquiring about a possible admission into our recovery program, please click the button below to fill out our private and confidential form.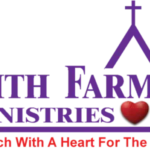 Click here for PDF version of Intake Application
Ministry Administration
9538 US Hwy 441 Boynton Beach, FL 33472
(561) 737-2259
(561) 737-2355