Alumni Association
I am so pleased to welcome you to the Faith Farm Ministries' Alumni Association web page. I'd like to take this opportunity to acknowledge the significant accomplishments of the graduates of the Faith Farm Ministries program. Being a Faith Farm graduate, you automatically become a member of the Alumni Association. Therefore, welcome to your web page.
As alumni of Faith Farm, you are also disciples. You are His hands and feet. It is time to give back what Jesus has so freely given to you. Your walk with Him should now be more about service to others, but there's great news . . . the more you give, the more you receive. You truly cannot out-give God!
Your Alumni Association is launching to new levels, so there's much to do! The purpose of the Faith Farm Ministries Alumni Association is threefold:
To provide resources to new graduates of the program, helping the new graduate to get grounded in their family, community and church.

To be an advocate for the Ministry, provide testimony to share the Good News with others and to further validate the need and success of the Faith Farm program.

To support the Association's activities and support the ministry through contributions of time, talent and treasure.
The Alumni Association is a large and valued organization that includes an estimated 30,000 members. Our association is becoming more significant as we locate members and continue to grow. It is important that you keep us advised of changes of address and emails so that we can keep you informed of Annual Homecoming celebrations, store sales and auctions and other Alumni events and information you may be interested in. Your contacts are:
Alumni Liaison & Registrar – Judy Walters (561) 737-2259

Women's Chapter – Paula Haynie (561) 271-2965

Ft. Lauderdale Chapter – Sammie Johnson (954) 468-1435

Boynton Beach Chapter – Delroy Kitchen (561) 756-1078

Okeechobee Chapter – Marc Murphy (863) 763-4224
Please complete our Alumni Survey. Thank you and we look forward to giving you an awesome Alumni experience while we continue to build disciples for the Kingdom.
Blessings and Love in Christ,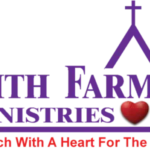 Judy Walters
Project Manager
Faith Farm Ministries Alumni Association
9538 US Highway 441
Boynton Beach, FL 33472
561)737-2259