Campus Leadership
Rick Aspden – Campus Director/Pastor
Rick came to us as a homeland missionary and church planter, who is experienced in entrepreneurial business management and all aspects of church management. With diverse backgrounds of military, business and ministry, coupled with his no nonsense approach, he challenges men not just to be men, but men of God. He is a gifted speaker, counselor and pastor who has a heart for the hurting and a willingness to do something about it. Rick is married and has one daughter. He serves Faith Farm as a Pastor and Assistant Director at the Okeechobee Campus, managing the Spiritual aspects of the program along with the day to day operations of the farm.
Lee Jolicoeur – Assistant Campus Director
Lee Jolicoeur came to Faith Farm as a homeland missionary/pastor with many years of ministering to people that are broken and hurting.  Along with his ministry experience, Lee also has many years of business and entrepreneurial experience.  Lee has a Bachelor of Science degree in Transformational Christian Ministry from Warner University.  This experience and education uniquely equips Lee to help lead Faith Farm's Okeechobee Campus in both spiritual matters and its operational needs.  Lee is married and has two daughters.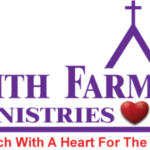 Marc Murphy – Intake Counselor
Marc Murphy came through the front doors of Faith Farm's Okeechobee Campus in February, 2005, as a student. He successfully completed the 9 month program and SLS Program and subsequently remained on Campus and joined the Faith Farm staff. Marc's current position is in the Intake Office, where he enjoys being used by God to offer hope to those who call. He remembers being on the other end of that line. He is thankful to serve with Faith Farm and enjoys being a part of something that changed his life forever. Marc lives on campus with his wife, Melissa, and two sons, Gavin and Cody. He enjoys spending time with his family at the beach or camping.