About the Campus
Faith Farm's "Rural Model" in Okeechobee, Florida, is a beautiful, working ranch of approximately 1,500 acres operating a variety of uses and interests.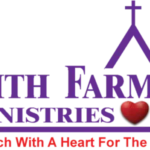 There are approximately:
200 acres of protected Florida Wetlands maintained by the staff and students of Faith Farm, in an effort to preserve the natural landscape, protect water resources, and maintain areas used by wildlife.
62 acres of citrus grove where students learn about growing, irrigation and distribution of a variety of citrus fruits.
1,000 acres of pasture where 200 – 400 head of beef cattle will seen grazing. Cattle are worked according to the five centuries of Florida cattle ranching tradition – the longest of any state in the USA – giving students opportunity to learn and experience birthing, branding, fencing and the daily care of beef cattle.
The Thrift Store for our Okeechobee campus is separated from the campus by approximately 12 miles, located at 1852 Hwy 70 West in Okeechobee, for better exposure and accessibility. Combined with the compassion of our campus leadership, the surroundings are conducive to a student's ability to get real with nature and with God. We have a total of 87 beds for men who are healing from their struggle with addiction at this beautiful campus attending the on-campus Faith Tabernacle Church.