History – A Legacy & Vision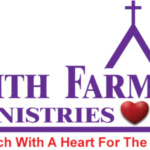 In 1951, Rev. Garland "Pappy" Eastham was an obedient servant of the Lord with a vision when he opened his church to the homeless men in the streets of the City of Ft. Lauderdale, many of whom struggled with the effects of drugs and alcohol. He made safe provisions for an overnight stay with hot meals. But he also fulfilled the greatest commandment…to love one another. As a true disciple, he did that very well, but it didn't resolve the problem as he saw the same men come back, time and time again, struggling with the stronghold of addiction. He realized that to obtain effective life changes, the program needed to be extended. Faith Farm Ministries has evolved into a minimum 9 month, faith-based, residential recovery program for men and women with 445 beds on over 1,500 acres in Ft. Lauderdale, Boynton Beach and Okeechobee. Although our physical locations are in south Florida, we are a national program attracting participants from New York to California.
We are open to all faiths, races and socio-economic classes, and we're here for anyone who needs help. We provide that safe place, food, clothing, life-skills training, work training, GED and college accredited curriculum, counseling and spiritual renewal. It is not enough to have our students achieve sobriety. They must change their way of thinking…a lasting change that results in productive lives.
Continuing in the genius of the program's design, to be a self-sufficient, entrepreneurial combination of micro-enterprise, results in a vision of unimaginable possibilities as a premier, national model with capacity to help thousands of people in the midst of the addiction epidemic together with their families.
Faith Farm Ministries endeavors to reach out to hurting men and women by providing them with daily bible classes, group encounters, counseling and work training in a healthy living environment. Our mission is to help men and women establish a new life through the saving knowledge of our Lord and Savior, Jesus Christ. As a Christian organization, our goal is to minister to hurting people by helping them rebuild their lives in accordance with the Word of God.
Our purpose is to help those that come to us to re-build their lives using strong spiritual principles and concepts that they can take with them when they leave Faith Farm. Our goal is to instill a strong foundation that will help them resist the temptations that would cause reversion to old habits and addictions.
Jesus came to earth and started a ministry of restoration and reconciliation between God and man. Since 1951, Faith Farm Ministries has been dedicated to God's calling of rebuilding broken lives.
Gaining victory over addiction allows Faith Farm students to return home as better husbands, wives, parents, siblings, sons and daughters.
"For you were once darkness, but now you are light in the Lord. Live as children of light for the fruit of the light consists in all goodness, righteousness and truth …" Ephesians 5:8
"Faith Farm is a Christian ministry whose purpose is the advancement of the gospel of Jesus Christ through restoration of men and women, leading to transformed lives."